Hamilton man with clubfoot manages 12km of Auckland Marathon after receiving 'new legs' from United States
Mark Liddle has come a long way in two years, from not being able to walk without pain to completing a 12km traverse in the Auckland Marathon.
The 53-year-old was born with Arthrogryposis Multiplex Congenita, also known as clubfoot, which also affected his hands.
He grew up playing sports like every other child but as he got older his condition took its toll on his body, slowly making every step difficult.
However, after contemplating costly surgeries to amputate his legs, he was convinced by a friend to get special braces for his legs from the United States.
"I was having cortisone injections in my ankles on a six-monthly basis but having that too often was not great for my health," he told the Herald.
"The braces came about from Jennie Jackson … she had been to the States – she has one clubfoot – and [the braces have] completely changed her life."
Jackson convinced Liddle to head to the United States and two years ago he received his new legs, in the form of two special braces for his feet.
The braces are designed by an American prosthetist who created the supporting devices to strap on to the impacted leg or legs and also fits inside shoes.
Called the ExoSym, the brace device is often used for soldiers with limb injuries and Liddle's life has changed dramatically since getting them.
"The braces have completely changed my life – taken all the pain away," he said.
"I can walk without pain, walk the dog, walk with my wife and the huge side of it is the psychological aspect of it.
"It's taken a lot of weight and anxiety of what life might bring."
Liddle is now able to walk on the beach, climb steps effortlessly, hike in the bush and buy shoes off-the-rack for the first time in his life.
Thanks to his "new legs" and a lot of training, which involved seeing a physiotherapist, he was able to compete as an athlete in the Auckland Marathon.
"It was an incredible feeling and having about eight family and friends with me was quite emotional, to set a target and achieve it," he said.
"It was always limited to a couple of Ks as a kid and to do 12km is just sensational."
Liddle did the event to help raise awareness for the charitable trust, The Arthrogryposis Group (TAG-NZ) to support others with the disability.
He is now braced for life and hopes to raise awareness with New Zealanders about the disability with the general public.
"A lot of people with young children like this might need help and support, this was just something to raise awareness of the condition."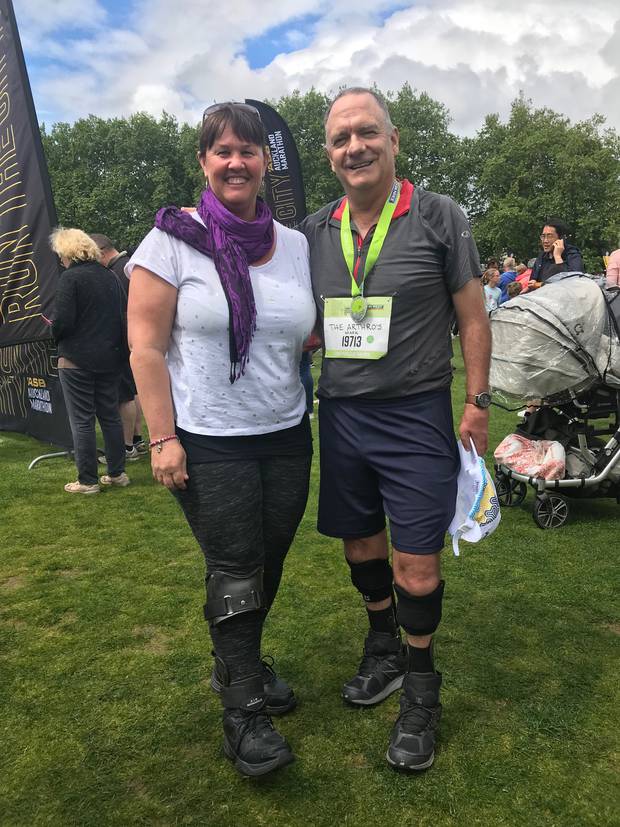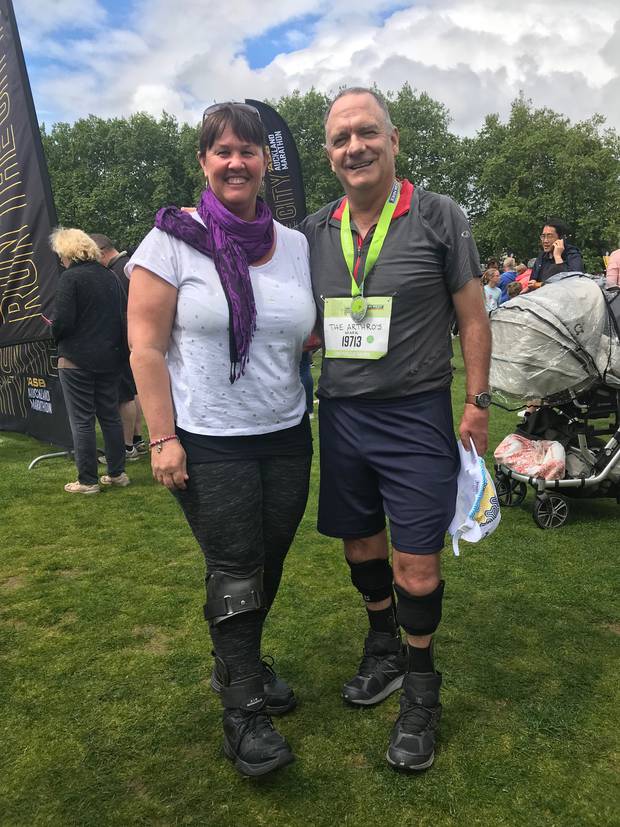 Jennie Jackson and Mark Liddle after completing the 12km traverse of the Auckland Harbour Bridge. Photo / Kaye Mueller
Source: New Zealand Herald | https://www.nzherald.co.nz/nz/news/article.cfm?c_id=1&objectid=12151001
By: Luke Kirkness
29 Oct, 2018 9:03pm